Home
News Archive
TV Archive
Movies Archive
Music Archive
Art Gallery
Contact Us


Here are links to that part 2 and part 1. We're on #11 (out of the 27 made as of 9/1/02)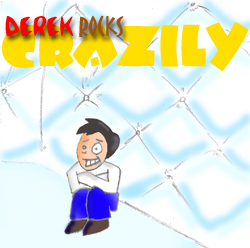 Derek Rocks Crazily

Created: 6/22/01
Comments: This is another CD with a lyrical insert. It turned out really good and the reason I made one for THIS CD in particular was because every single song had easily accessable lyrics. The thing about this cover is that I decided to draw it by hand and then scan it and color it on the computer. I think you can tell the difference between this one and all the other efforts which were done directly on the computer.
Track listing:
1. 311 - You Wouldn't Believe
2. Cake - Short Skirt Long Jacket
3. Rustic Overtones - C'Mon
4. At The Drive-In - Invalid Litter Department
5. Kid Rock - Wasting Time
6. Prime STH - I'm Stupid (Don't Worry About Me)
7. New Found Glory - Dressed to Kill
8. Nirvana - Rape Me
9. Buckcherry - Ridin'
10. Tricky - Evolution Revolution Love
11. Sugar Ray - When It's Over
12. Pennywise - Fuck Authority
13. Radiohead - I Might Be Wrong
14. Alien Ant Farm - Smooth Criminal
15. Ours - Sometimes
16. Red Hot Chili Peppers - Around the World
17. Stone Temple Pilots - Days of the Week
18. Brand New Immortals - Reasons Why
19. Rustic Overtones - Sector Z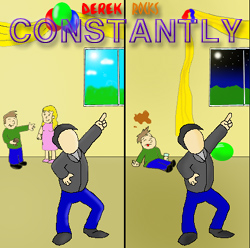 Derek Rocks Constantly

Created: 7/20/01
Comments: Another computer generated cover because the idea is to show how Derek Rocks Man doesn't stop. A split screen of him partying during the day and on into the night when the party's dying down. I think it came out pretty good. Not too much to say about the songs, though. By far the best ones are "Bleed American", "Island in the Sun", "Giving In" "Threesome", and "Aisle 10".
Track listing:
1. Jimmy Eat World - Bleed American
2. Weezer - Island in the Sun
3. Econoline Crush - Make It Right
4. Disturbed - Down With the Sickness
5. Oleander - Why I Am Here
6. Adema - Giving In
7. Janes Addiction - Jane Says
8. Crystal Method - Name of the Game
9. American Hi-Fi - Another Perfect Day
10. Drowning Pool - Bodies
11. Better Than Ezra - Extra Ordinary
12. Puddle of Mudd - Control
13. Three Doors Down - Be Like That
14. Janes Addiction - Been Caught Stealing
15. Fenix TX - Threesome
16. Living End - Dirty Man
17. Calling - Wherever You Will Go
18. Spacehog - At Least I Got Laid
19. Scapegoat Wax - Aisle 10 (Hello Allison)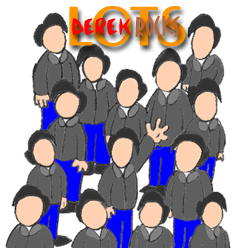 Derek Rocks Lots

Created: 8/11/01
Comments: To illustrate how much Derek Rocks (he rocks lots) I drew 14 of him (13 for each album and one more waving for good luck). So that crowds up the cover quite nicely. The songs on this disc are fun, especially Ben Folds and Stroke 9, I have listened to those sooo many times, and they still don't get old!
Track listing:
1. Ben Folds - Rockin The Suburbs
2. American Hi-Fi - Blue Day
3. Live - Simple Creed
4. Stereomud - Pain
5. Econoline Crush - You Don't Know What It's Like
6. At The Drive-In - Pattern Against User
7. Slipknot - Wait and Bleed
8. Insolence - Poison Well
9. Gorillaz - Clint Eastwood
10. Lofidelity Allstar - Battleflag
11. Butter 08 - Butter Of 69
12. Crash Palace - Perfect
13. Pete - Sweet Daze
14. Spineshank - New Disease
15. Bush - Comedown
16. Dave Navarro - Rexall
17. Stroke 9 - Kick Some Ass
18. Seven Channels - Breathe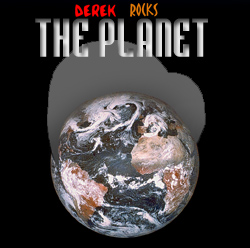 Derek Rocks the Planet

Created: 9/21/01
Comments: The cover's very simple. I found a picture of Earth and drew Derek Rocks Man's hair do onto it. The back of the case however, has the song listings but ALSO a fun collage I made for it of aliens and it took me a long while to make, so do check that out here.Some of the songs on this CD were ahead of their times. Ash's "Burn Baby Burn" didn't become popular until June 2002! I have no clue how I got so ahead of the times, besides being psychic and a genius at knowing music... ok, so that was very sarcastic.
Track listing:
1. Handsome Devil - Makin' Money
2. Ash - Burn Baby Burn
3. System of a Down - Chop Suey
4. Rancid - Time Bomb
5. Bad Ronald - Let's Begin (Shoot the Shit)
6. Dislocated Styles - Liquified
7. Reveille - What You Got
8. P.O.D. - Alive
9. Vandals - You're Not the Boss of Me
10. Sugarcult - Stuck In America
11. Fuel - Bad Day
12. Alkaline Trio - Stupid Kid
13. Butthole Surfers - Shame of Life
14. Sum 41 - In Too Deep
15. Everclear - Rock Star
16. Limp Bizkit - Boiler
17. Shootyz Groove - L Train
18. Long Beach Dub All Stars - Sunny Hours
19. Systematic - Deep Colors Bleed
20. Saliva - Click Click Boom
21. Nickleback - How You Remind Me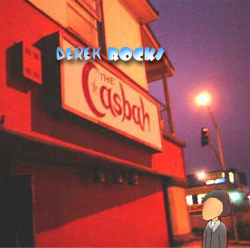 Derek Rocks the Casbah

Created: 10/8/01
Comments: After saying "Rock the Casbah" for a while, I realized I had a line of CDs with Rocks in the title. How convenient. The Derek Rocks the Casbah CD is a classic. Featuring 3 versions of the song "Rock the Casbah". I ran an image search for casbah so that I could have SOME idea for what to do for the cover and I got a lovely picture of this night club called The Casbah, and one of the covers was played at this night club. How perfect. I immediately stuck the Derek Rocks Man into it and the CD was complete.
Track listing:
1. Clash - Rock the Casbah
2. Jettingham - Cheating
3. Stone Temple Pilots - Hollywood Bitch
4. Pete Yorn - For Nancy
5. Godsmack - Bad Magic
6. Staind - Fade
7. Dave Navarro - Hungry
8. Boy Hits Car - Man Without Skin
9. Remy Zero - Save Me
10. Lit - Lipstick and Bruises
11. Solar Twins - Rock the Casbah
12. 311 - I'll Be Here Awhile
13. Alien Ant Farm - Good (For a Woman)
14. Weezer - Buddy Holly
15. Bush - Speed Kills
16. One Side Zero - New World Order
17. Violent Femmes - Blister in the Sun
18. Default - Wasting My Time
19. Incubus - Wish You Were Here
20. Green Day - Hitchin' a Ride
21. Linkin Park - In the End
22. Adam the Gimbel - Rock the Casbah

Piece of News


George W. Bush declared president elect, which if true means death for us all.


Random Quote
Quote Window


"Eight more days and I can start telling the truth again."
- Sen. Chris Dodd (D, Conn.), on the Don Imus show, on campaigning


Random Link


Petro's Porn Crib
Its actually a Limp Bizkit site of one of our friends.