Home
News Archive
TV Archive
Movies Archive
Music Archive
Art Gallery
Contact Us


We continue where we left off in the last edition: the sixth CD. He's five more fun Rock-ings...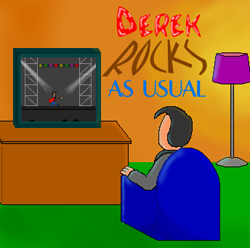 Derek Rocks As Usual

Created: 2/7/01
Comments: I took the cover from Derek Rocks Again and put it on the TV in a room and made Derek Rocks Man sitting in a chair, 'cuz it's As Usual it has to be a much more typical setting. Derek Rocks Man is an everyman. An everyman that watches his concerts on TV. I think this really added the the character as a whole. The songs were tough picks. I think it represents a healthy variety: from the quieter Semisonic jam, to the hardcore beats of Rage Against the Machine. It also features 4 (count 'em 4!) local Maine songs from Rustic and Rustic's keyboardist Spence.
Track listing:
1. Offspring - Want You Bad
2. Dandy Warhols - Bohemian Like You
3. Spencer Albee as Frankenstein - I'm Breathing
4. Electrasy - Morning Afterglow
5. Mathew Good Band - Hello Time Bomb
6. Rustic Overtones - Check
7. Semisonic - Chemistry
8. Foo Fighters - Learn To Fly
9. Rage Against the Machine - Guerrilla Radio
10. Incubus - Drive
11. Everclear - When It All Goes Wrong Again
12. Twisted Sister - We're Not Gonna Take It
13. Moby - Southside (feat. Gwen Stefani)
14. Radiohead - Creep
15. Sublime - Wrong Way
16. Rustic Overtones - Gas On Skin
17. Offspring - She's Got Issues
18. Our Lady Peace - Life
19. Spencer Albee as Frankenstein - Two Feet
20. Diffuser - Karma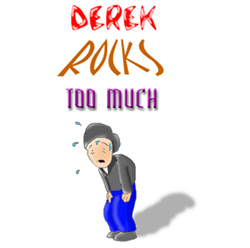 Derek Rocks Too Much

Created: 3/16/01
Comments: Now if you've been looking at the covers so far, you should have noticed Derek Rocks Man doesn't have a face unless it's the only way to express his emotions. This was a creative challenge I conciously made for myself. On the first CD the guy wasn't even drawn by me, but on the second I could have easily given him a face, but I enjoyed the idea of making myself come up with a way to convey emotions face-less. Now I found myself needing to make him look tired and without eyes or mouth, and I gave up on that idea! But I came up with a new rule for this CD: passion-filled, more extreme emotions will create eyes and mouth. Like yelling, being mad, or being very tired.
Track listing:
1. New Found Glory - Hit or Miss
2. Blink 182 - Adam's Song
3. Cold - No One
4. Marvelous 3 - Get Over
5. Twitchboy - A Note
6. Alien Ant Farm - Movies
7. Fuel - Innocent
8. Our Lady Peace - Clumsy
9. Limp Bizkit - My Way
10. Radiohead - Idioteque
11. Offspring - Come Out And Play
12. Deftones - Digital Bath
13. Powderfinger - My Happiness
14. 311 - Don't Stay Home
15. They Might Be Giants - Boss Of Me
16. Ret Hot Chili Peppers - Parallel Universe
17. Tantric - Breakdown
18. Papa Roach - Between Angels & Insects
19. Spacehog - I Want To Live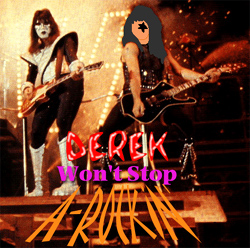 Derek Won't Stop A-Rockin'

Created: 3/16/01
Comments: In my infinite wisdom I made a playlist (that's what I do, base a playlist on the CD to plan the order) that was soooo huge that I couldn't fit it on one CD. So I got more songs and some aren't the best, but I managed to scrounge them up so that I could fit the songs on 2 CDs. So what may have been the seventh CD because it was created first, but in a way the eighth is just a continuation of the it! Also notice how I just took a photo of the band KISS and drew over with Derek Rock Man's head. This was the first, but not last time I'd do that!
Track listing:
1. Blink 182 - Damnit
2. Lit - Miserable
3. Hed P.E. - Killing Time
4. Spacehog - In the Mean Time
5. Rage Against the Machine - How I Could Just Kill a Man
6. Stone Temple Pilots - Sour Girl
7. Three Doors Down - Duck And Run
8. Poe - Hey Pretty
9. Oleander - Are You There?
10. Mighty Mighty BossTones - Knock On Wood
11. Nothingface - Bleeder
12. Dave Matthews Band - The Space Between
13. Soul Asylum - Somebody to Shove
14. Ace Frehley - New York Groove
15. Run DMC - Them Girls (ft Fred Durst)
16. Fuel - Hemorrhage (In My Hands)
17. Vast - Don't Have Anything
18. Living End - Roll On
19. American Hi-Fi - Flavor Of The Weak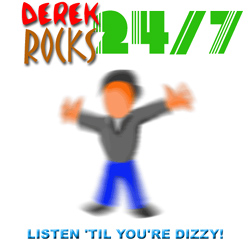 Derek Rocks 24/7

Created: 4/16/01
Comments: Not really knowing what to do with this CD Matt came up with the title "Derek Rocks 24/7" and I was stuck coming up with a cover image for that. I figured I could just draw Derek Rocks Man and just take it from there. So I play around with some stuff like a change in the Derek Rocks title (which before had always been shimmery and slanted) and radial blur. So now that Derek Rocks Man looks like he's spinning I add in a little tip about listening until you become dizzy and I have myself a cover to go along with a solid bunch of songs that have a Summery touch.
Track listing:
1. Sum 41 - Fat Lip
2. Eve 6 - Here's to the Night
3. Monster Magnet - Heads Explode
4. Linkin Park - Crawling
5. MxPx - My Life Story
6. Train - Drops of Jupiter
7. Creeper Lagoon - Wrecking Ball
8. A Perfect Circle - The Hollow
9. Staind - It's Been A While
10. Collective Soul - Gel
11. Boy Hits Car - I'm A Cloud
12. Crazy Town - Revolving Door
13. Grand Theft Audio - Stoopid Ass
14. Saliva - Your Disease
15. Cake - The Distance
16. Godsmack - Greed
17. Sublime - Santeria
18. Rehab - It Don't Matter
19. Limp Bizkit - Faith
20. Greenday - Waiting
21. Lucky Boys Confusion - Fred Astaire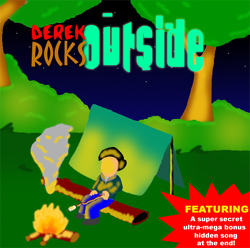 Derek Rocks Outside

Created: 6/22/01
Comments: With the song Outside by Staind on the song roster, there's never a more fitting time to call it "Derek Rocks Outside". I also thought I'd have some fun and put in a "super secret ultra-mega bonus hidden song" which I then advertise about on the cover and state specifically is at the end. Oh, the fun of it all! At least I got to airbrush stuff on the computer to make the fire look good.
Track listing:
1. Cult - Rise
2. Staind - Outside
3. Blink 182 - The Rock Show
4. Lifehouse - Sick Cycle Carousel
5. From Zero - Check Ya
6. Our Lady Peace - Is Anybody Home?
7. Tool - Schism
8. Doves - Catch The Sun
9. Coldplay - Shiver
10. Black Crowes - Lickin'
11. Depeche Mode - Dream On
12. R.E.M. - Imitation of Life
13. Weezer - Hash Pipe
14. David's Playground - My Way
15. Stabbing Westward - So Far Away
16. Seven Mary Three - Wait
17. Fatboy Slim - Weapon of Choice
UNLISTED SECRET SONG: Eve 6 - I Touch Myself (live)

Piece of News


George W. Bush declared president elect, which if true means death for us all.


Random Quote
Quote Window


"The private enterprise system indicates that some people have higher incomes than others."
-Gerry Brown


Random Link


The Bone Network
Derek's informative site on the greatest comic!